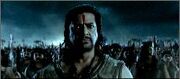 EPISODE 115- 27 April, 2012
Lord Shiva grants permission to Rati and Kamdev to decorate Kailash on the occasion of his and Sati's union. Meanwhile, Prasuti is worried about Sati and asks Rohini about the updates of Sati. Sati is delighted on the occasion of her most awaited moment with Mahadev. Tarakasur invites Gods to the war. Lord Brahma asks Daksh to help the Gods in the war, but Daksh denies. Mahadev arrives to stop the war but fails to convince Tarakasur.
Ad blocker interference detected!
Wikia is a free-to-use site that makes money from advertising. We have a modified experience for viewers using ad blockers

Wikia is not accessible if you've made further modifications. Remove the custom ad blocker rule(s) and the page will load as expected.