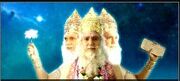 EPISODE 119- 3 May, 2012
While Vidyunmani refuses Sati to stay with Lord Shiva, Sati threatens him with dire consequences. On seeing Sati's ghastly avatar as Shakti, Vidyunmani pleads guilty and asks her to take Mahadev to Kailash. Mahadev requests Sati to calm down, Vidyunmali asks Sati to free Tarakasur from stranglehold. On account of Mahadev's arrival on Kailash, Sati wishes to cook kheer for everyone. Mahadev informs Sati about Sri Ram. He finds Sri Ram and Lakshman looking out for Sita. Sri Ram feels guilty for losing Sita.
Ad blocker interference detected!
Wikia is a free-to-use site that makes money from advertising. We have a modified experience for viewers using ad blockers

Wikia is not accessible if you've made further modifications. Remove the custom ad blocker rule(s) and the page will load as expected.