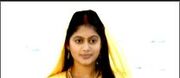 EPISODE 120- 4 May, 2012
Sati hesitates to believe that Sri Ram is a god. She teleports to the future where Ram and Lakshman are at Rameshwaram worshipping Shiva. Sati approaches Sri Ram as Sita to test him. However, being a god, Sri Ram makes out that she is Sati. Then Shiva also comes and blesses Ram. Lord Shiva fumes at Sati for testing Sri Ram and refuses her to consider as his wife. Narad Muni becomes happy when Tarakasur saves his veena from falling on the floor and makes Tarakasur look like himself, as a boon. Vijaya plots and takes Prasuti's permission to convince Sati to come to yagya without Lord Shiva.
Ad blocker interference detected!
Wikia is a free-to-use site that makes money from advertising. We have a modified experience for viewers using ad blockers

Wikia is not accessible if you've made further modifications. Remove the custom ad blocker rule(s) and the page will load as expected.