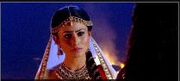 EPISODE 123- 9 May,2012
Sati insists Lord Shiva to come to Daksh's yagya, however Mahadev refuses and wants Sati to do sadhana. Meanwhile, Daksh seeks Lord Vishnu and Lakshmi's presence in making his yagya auspicious. On learning about Mahadev's absence in the yagya and Daksh's annoyance for him, Lord Vishnu and Lakshmi deny to join the yagya, with Lord Vishnu saying that if one of the Tridev is insulted, it is an insult to all three of the Tridev. But Daksh reminds Lord Vishnu of the wish he had taken from Vishnu during Sati's marriage, which is that he would agree to any decision Daksh takes. Daksh says that Shiva may try to destroy his Yagya, so Lord Vishnu would have to come to protect the Yagya. Mahadev tries to enlighten Sati about the significance of contemplation in life. Finally, Sati decides to join Daksh's yagya despite Mahadev's opposition.
Ad blocker interference detected!
Wikia is a free-to-use site that makes money from advertising. We have a modified experience for viewers using ad blockers

Wikia is not accessible if you've made further modifications. Remove the custom ad blocker rule(s) and the page will load as expected.