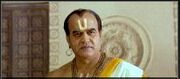 EPISODE 124- 10 May, 2012
Sati is adamant to join Daksh's mahayagya. Despite Mahadev and Nandi's opposition, Sati proceeds to participate in the yagya. Meanwhile, Mahadev is worried about Sati and inauspicious happenings during the yagya. Prasuti expresses her grief on learning Mahadev and Sati's absence in mahayagya. But she still insists to the doorman to not allow Sati to come inside, because she does not want her daughter to be insulted by Daksh. Lord Vishnu and Lord Brahma request Mahadev to join Daksh's yagya, but Mahadev refuses. He instead requests them to ensure that Sati does not get insulted there, because he would never be able to forgive himself if she suffers insult. Daksh feels proud of organizing his ultimate yagya. Even there, Brahma tries too explain to his son to invite Shiva, but Daksh does not listen. While Sati tries to join the yagya, she is stopped by the doorman. She manages to convince him, but he cannot allow Nandi to enter with Sati.
Ad blocker interference detected!
Wikia is a free-to-use site that makes money from advertising. We have a modified experience for viewers using ad blockers

Wikia is not accessible if you've made further modifications. Remove the custom ad blocker rule(s) and the page will load as expected.