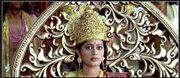 EPISODE 125- 11 May, 2012
Rishi Dadhichi curses Daksh that he will not able to complete his Yagya as Daksh used bad language for Lord Shiva by saying that Shiva does not deserve event the leftovers of the Yagya. Sati orders Rishi Dadhichi not to leave the place of Yagya. Daksh asks Sati not to address him as father. Sati realizes that she did a mistake of coming to Yagya and decides to go back and apologise to Lord Shiva. In between, Lord Shiva tries to call out to Sati to come back to Kailash.
Ad blocker interference detected!
Wikia is a free-to-use site that makes money from advertising. We have a modified experience for viewers using ad blockers

Wikia is not accessible if you've made further modifications. Remove the custom ad blocker rule(s) and the page will load as expected.