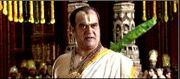 EPISODE 128- 16 May, 2012
On learning about Sati's death, Lord Shiva gets infuriated and renders Tandav dance. He removes a lock of his hair and throws it to the ground, causing Virabhadra to rise. He orders Virabhadra to kill Daksh and even kill whoever stands in his way. Rishi Kashyap insults Daksh and breaks his relationship with him. Mahadev's devotees attack on Daksh's soldiers. Lord Brahma tries to persuade Daksh to apologize to Mahadev, but Daksh is firm in his decision and challenges Mahadev. Daksh orders Rishi Bhrigu to create an army to destroy Virabhadra, but Virabhadra instead kills them all. Daksh seeks help of Lord Vishnu to save his yagya, according to the vow he had committed to.
Ad blocker interference detected!
Wikia is a free-to-use site that makes money from advertising. We have a modified experience for viewers using ad blockers

Wikia is not accessible if you've made further modifications. Remove the custom ad blocker rule(s) and the page will load as expected.