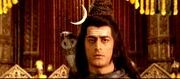 EPISODE 130- May 18, 2012
Daksh tries to escape from Virabhadra and seeks the help of deities to rescue him. Finally, he apologizes to Lord Shiva out of guilt but gets killed by Virabhadraby having his head cut off. Mahadev is tormented to see Sati's dead body. Lord Vishnu conveys to Mahadev that Daksh has redeemed himself with his death and states the importance of Daksh's reincarnation. Mahadev gives a new life to Daksh. Daksh apologizes to Mahadev. Mahadev takes away Sati's body.
Ad blocker interference detected!
Wikia is a free-to-use site that makes money from advertising. We have a modified experience for viewers using ad blockers

Wikia is not accessible if you've made further modifications. Remove the custom ad blocker rule(s) and the page will load as expected.