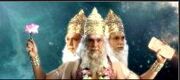 EPISODE 132- 22 May, 2012
Tarakasur's men attack on common people and saints. The deities seek Lord Vishnu's help. Lord Vishnu asks the deities to choose between Tarakasur's death and an end to Lord Shiva's sorrow. With the deities consent, Lord Vishnu disposes Sati's dead body on earth with his Sudarshan chakra. Mahadev reaches earth in search of Sati. He transforms himself into a common man. Chandrama stops Nandi from killing himself. When Mahadev is drinking water offered by the devotees, Tarakasur's men ask the devotees to serve them first.
Ad blocker interference detected!
Wikia is a free-to-use site that makes money from advertising. We have a modified experience for viewers using ad blockers

Wikia is not accessible if you've made further modifications. Remove the custom ad blocker rule(s) and the page will load as expected.