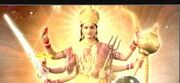 EPISODE 134- 24 May, 2012
Revati, Rohini and Chandrama express their sorrow on Lord Shiva's pain for Sati. On seeing one of the parts of Sati's shakti peethas, Mahadev sees her existence. Lord Vishnu and Brahma pray to Shakti for Mahadev's welfare and are enlightened about Parvati's existence in Mahadev's life. Mahadev gets mesmerized to see a veena and recalls Sati by playing it melodiously. Tarakasur orders his warriors to destroy Sati's Shakti Peethas to ruin Mahadev's power.
Ad blocker interference detected!
Wikia is a free-to-use site that makes money from advertising. We have a modified experience for viewers using ad blockers

Wikia is not accessible if you've made further modifications. Remove the custom ad blocker rule(s) and the page will load as expected.