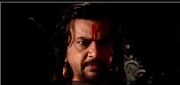 EPISODE 138- May 31, 2012
Shakti alerts Lord Shiva to protect the Earth from Tarakasur's attack and take spontaneous action against him. Mahadev awakes his power and rescues the earth from evil destruction. Tarakasur mentions to Earth that even if Lord Shiva tries to remove the Mahashastra, wherever it reaches, destruction is imminent. Finally, Lord Shiva absorbs the Mahashastra inside of him, saving everyone. The deities pay their gratitude to Mahadev. On listening to Rishi Dadhichi's prayer, Mahadev transforms Sati's Pinds into Shakti Peetha and returns them to their original position along with one Kalbhairav each to guard them, but could not find two pinds of Sati. He declares to find them on his own. Tarakasur orders his sons to find the pinds and destroy them. Rishi Markandeya finds one of the pinds and requests Himavat and his wife Meenavati to protect it from the demons.
Ad blocker interference detected!
Wikia is a free-to-use site that makes money from advertising. We have a modified experience for viewers using ad blockers

Wikia is not accessible if you've made further modifications. Remove the custom ad blocker rule(s) and the page will load as expected.