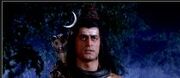 EPISODE 140- 3 June, 2012
Ganga desires to marry Lord Shiva. But Mahadev denies her desire and blesses her with a boon of eternal purity. Tarakasur pollutes the heaven to weaken the deities. Nandi pleads with Mahadev to let him accompany. Nandi turns himself into a stone when Mahadev ignores him, announcing that he will only return to his normal form on Lord Shiva's touch. Lord Brahma turns Ganga into a sacred river and blesses with a boon of baby girl to Meenavati. Menavati is blessed with a baby girl in the form of Shakti's form, Parvati. Tarakasur learns about Shakti's birth and instructs Bahruba to kill her.
Ad blocker interference detected!
Wikia is a free-to-use site that makes money from advertising. We have a modified experience for viewers using ad blockers

Wikia is not accessible if you've made further modifications. Remove the custom ad blocker rule(s) and the page will load as expected.