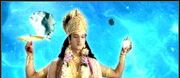 EPISODE 142- June 5, 2012
Shakti releases Bahrupa from the curse. Narad Muni gives the name Parvati to Meenavati's daughter. Maharshi Markandeya asks Himavat to leave his wife and daughter in his ashram. But Meenavati doubts on the Rishi fraternity as they are devotees of Lord Shiva and Lord Ser that, he curses Lord Brahma of never being worshipped by anyone.
Ad blocker interference detected!
Wikia is a free-to-use site that makes money from advertising. We have a modified experience for viewers using ad blockers

Wikia is not accessible if you've made further modifications. Remove the custom ad blocker rule(s) and the page will load as expected.