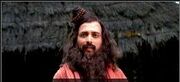 EPISODE 143- June 6, 2012
Himavat expresses his feelings for his child Parvati before going to war. While Lord Shiva is lost in his contemplation, his drum falls where Parvati and her mother Meenavati are residing at Rishi Dadhichi's place. Tarakasur is infuriated on his unsuccessful attempt in killing Parvati. Rishi Dadhichi is astonished to see Parvati playing Mahadev's drum melodiously. He feels Mahadev's presence and predicts Parvati's devotion in Mahadev.
Ad blocker interference detected!
Wikia is a free-to-use site that makes money from advertising. We have a modified experience for viewers using ad blockers

Wikia is not accessible if you've made further modifications. Remove the custom ad blocker rule(s) and the page will load as expected.