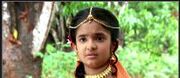 EPISODE 145- June 8, 2012
Rishi Dadhichi and Rishi Markandeya panic as Parvati goes missing from the Ashram. On listening to Parvati's prayer, Lord Shiva rescues her from Tarakasur's attack indirectly. Meenavati rebukes Rishi Dadhichi and intends to go out of his Ashram for Parvati's safety, but suddenly she meets with an accident. Rishi Markandeya enlightens Parvati about Maha Mrityunjaya Mantra power that bestowed him victory over his death at a very young age through Mahadev's grace, such that even Yama, the god of death, was forced to return back without Markandeya. Parvati renders the mantra for Meenavati's recovery.
Ad blocker interference detected!
Wikia is a free-to-use site that makes money from advertising. We have a modified experience for viewers using ad blockers

Wikia is not accessible if you've made further modifications. Remove the custom ad blocker rule(s) and the page will load as expected.