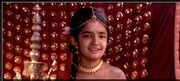 EPISODE 148- 13 June, 2012
Meenavati scolds Parvati for associating with the Sadhus. Meenavati informs Himavat about Parvati's affinity for Lord Shiva. On hearing Menavati, Himavat asks Menavati to have patience. Lord Vishnu tells Lakshmi that it is impossible to part Mahadev and Parvati. As Parvati is about to throw away the Damaru, Sati stops her from doing so. Parvati hands over the Damaru to Sati and asks her to keep it safe. Sati tells Parvati about her past life and asks her to keep the Damaru with herself.
Ad blocker interference detected!
Wikia is a free-to-use site that makes money from advertising. We have a modified experience for viewers using ad blockers

Wikia is not accessible if you've made further modifications. Remove the custom ad blocker rule(s) and the page will load as expected.