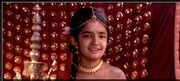 Parvati's encounter with Sati 

Telecast Date: 

14 Jun 2012

Edit
Lord Vishnu enlightens Devi Lakshmi about Sati's existence into Parvati. He bestows peace to Sati's soul. Parvati gets blessing from Sati to devote herself to Mahadev's life. She promises Menavati that she will obey her sentiments. Raj Guru felicitates Him Naresh, Menavati and Parvati on their arrival to their palace.
Ad blocker interference detected!
Wikia is a free-to-use site that makes money from advertising. We have a modified experience for viewers using ad blockers

Wikia is not accessible if you've made further modifications. Remove the custom ad blocker rule(s) and the page will load as expected.