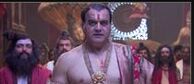 EPISODE 2 - 19 December 2011
Sati is mesmerized seeing Shiva. Daksh decries Shiva's importance and his presence among his followers. Rishi Dadhichi condemns Daksh's statements against Shiva. An arrogant Daksh boasts of being the son of the creator,Brahma. Lord Shiva interrupts Daksh saying that he must not self-praise for contributing to the well-being of this world. When Sati tries to apologize to Daksh for placing the Shivling in the temple, Daksh pronounces an elusive punishment for her.
Ad blocker interference detected!
Wikia is a free-to-use site that makes money from advertising. We have a modified experience for viewers using ad blockers

Wikia is not accessible if you've made further modifications. Remove the custom ad blocker rule(s) and the page will load as expected.