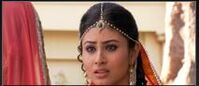 EPISODE 4 - 21 December 2011
Khyati and Aditi try to help Sati fulfill the arduous punishment given by Daksh. But, Sati is adamant that she would face the difficulties coming in her way all alone. Sati, with her two maids, Jaya and Niyati set out in search lotuses. In the courtroom, the sculptor community assembles to seek for an apology from Daksh. But, an arrogant Daksh dispels the entire community from his kingdom. Rishi Dadhichi enters the courtroom with his disciples.
Ad blocker interference detected!
Wikia is a free-to-use site that makes money from advertising. We have a modified experience for viewers using ad blockers

Wikia is not accessible if you've made further modifications. Remove the custom ad blocker rule(s) and the page will load as expected.