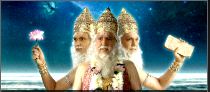 EPISODE 74- 10 March 2012
Anusuya asks Revati to take care of Sati. Vishnu suggests Brahma that if someone else agrees to marry Sati, then Shiva will ready to accept Sati and tells him to ask Daksh to go to Rishi Angira and give a proposal of Sati's marriage with his son, Sadbhish. Angira puts a condition that he would give his son only if Daksh parts with half of his power as a Prajapati. Daksha unwillingly though, agrees to this condition, but he in turn counters another condition that post marriage his son-in-law would live in his house only as a "Jamai" (term used for describing a husband staying permanently in his wife's parents place). Tarakasur kills Kantak after he fails to kill Sati and ask his men to find out about the mysterious power, which is protecting Sati.
Ad blocker interference detected!
Wikia is a free-to-use site that makes money from advertising. We have a modified experience for viewers using ad blockers

Wikia is not accessible if you've made further modifications. Remove the custom ad blocker rule(s) and the page will load as expected.