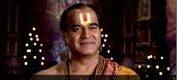 EPISODE 83- 20 March 2012
Prajapati Daksh welcomes Jata to his palace. Sati mesmerizes on listening to Jata's melodious rendition of Om Namo Narayana. Prasuti cherishes on seeing Sati regaining her health. Jata agrees to revamp Sadbhish's personality on the condition that Sati stays with him until his work is finished. However, Daksh and Prasuti oppose Jata's condition. Eventually, Jata gets furious and wants to leave Daksh Bhavan. Daksh then convinces him that he has to speak to his family first and then he could take some decision. After everybody leaves, Sevakram (Nandi) and Jata (Shiva) smile.
Ad blocker interference detected!
Wikia is a free-to-use site that makes money from advertising. We have a modified experience for viewers using ad blockers

Wikia is not accessible if you've made further modifications. Remove the custom ad blocker rule(s) and the page will load as expected.