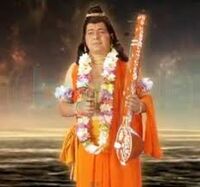 Narad Muni is the son of Brahma (making him the brother of Daksh) and a devotee of Lord Vishnu. He keeps travelling the three worlds and he is famous for creating fights between people and spicing up facts. He tries to draw the attention of Lord Shiva time and again towards Sati (on behalf of Lord Vishnu).
Ad blocker interference detected!
Wikia is a free-to-use site that makes money from advertising. We have a modified experience for viewers using ad blockers

Wikia is not accessible if you've made further modifications. Remove the custom ad blocker rule(s) and the page will load as expected.