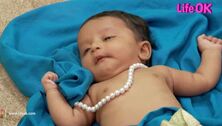 Parvati is the daughter of Himavat and Meenavati. Shakti herself has taken birth as Parvati in order to win Lord Shiva again, after the unfortunate demise of her previous birth, Sati. Lord Vishnu mentions that this time, Shakti has taken birth with her abilities being beyond human.As she grows , her memories of her previous birth awaken in her .She later meets Shiva but during that meeting ,Kamdev dies and Shiva leaves from there. Kamdev's wife ,Rati curses Parvati to never give birth. Later , Parvati does severe penance to please Shiva . After Shiva is pleased ,both of them fall in love and with Parvati 's parents blessings they marry each other. Parvathi took vavarious forms such as Kali . She is the mother of Vinayak and Kartikey .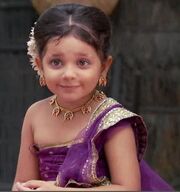 Ad blocker interference detected!
Wikia is a free-to-use site that makes money from advertising. We have a modified experience for viewers using ad blockers

Wikia is not accessible if you've made further modifications. Remove the custom ad blocker rule(s) and the page will load as expected.